In search and viewing of free movies, advertisements and poor quality are boring. You can solve these problems and get rid of annoying ads by subscribing to a streaming service. Beforehand, of course, you should understand and familiarize yourself with what streaming services are, which of them are the best. You should compare the offers of each service for different indicators - take into account the cost of a subscription, usability, library, availability of exclusives and free periods.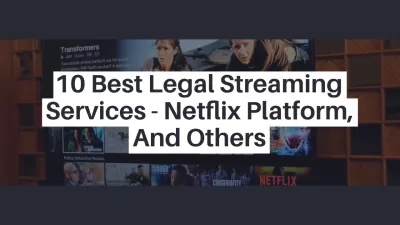 ---
---
Streaming services
In search and viewing of free movies, advertisements and poor quality are boring. You can solve these problems and get rid of annoying ads by subscribing to a streaming service. Beforehand, of course, you should understand and familiarize yourself with what streaming services are, which of them are the best. You should compare the offers of each service for different indicators - take into account the cost of a subscription, usability, library, availability of exclusives and free periods.
The time of digital piracy is no longer so popular, more and more users prefer to pay for content and online platforms where they can legally watch their favorite movies and TV series.
Using streaming services is quite convenient compared to pirated torrents. For example, downloading a movie on an illegal resource takes from 20 minutes to several hours, depending on the speed of the Internet, but on a streaming platform it is much faster. In addition, the library of online cinema services is regularly updated and replenished, so you can always quickly and easily find a new movie or series. Aside from subjective likes / dislikes, there are a few things to keep in mind when choosing a streaming platform. So what should you pay attention to?
Currently, there are a lot of services, since it is absolutely economically unprofitable to subscribe to everything at once, you have to choose.
Streaming services are based on the principle when content is transferred from the provider to the user not by pre-loading on the device, but in real time.
In essence, Legal streaming is online streaming. Streaming media includes music, video and information that the user receives continuously from the provider.
To choose from the available streaming services available wordwide, you should first familiarize yourself with the parameters in order to make the right choice. Check out the amount of content, available platforms, subscription prices.
Some services are even offering free trial, such as Amazon Prime Video that is giving away a free month of trial. See below how to subscribe safely and stream legally movies online!
One of the most interesting legal video streaming service at the moment is Amazon Prime, as they are offering quality new content, and have access to a large collection of old content, which is slowly disappearing from their competitor's catalogs.
For example, they were hosting the French event of 2021, the music documentary "Montre Jamais Ca A Personne", following the French Eminem rapper called Orelsan, was exclusively available on Amazon Prime Video, and could even be viwed safely and legally for free online on Prime Video with their one month free trial!
How to get a safe and free virtual disposable credit card to register to streaming free trial subscriptions
Discover a World of Entertainment with Reelgood
Are you tired of endlessly scrolling through multiple streaming platforms, trying to find the perfect movie or TV show to watch? Look no further! Reelgood is a comprehensive search and discovery platform that consolidates content from various streaming services in one place. With Reelgood, you can easily search for, discover, and track your favorite movies and TV shows across all your streaming subscriptions.
What is Reelgood?
Reelgood is an online streaming guide that helps users find content across multiple platforms with ease. It curates movies and TV shows from over 150 streaming services, including popular ones like Netflix, Hulu, Amazon Prime Video, and Disney+, as well as niche platforms like Tubi, Crackle, and Shudder. By aggregating all this content in one place, Reelgood simplifies your search and decision-making process when it comes to choosing what to watch.
Key Features of Reelgood
Universal Search:
Reelgood's search function allows you to find movies and TV shows across all your streaming services. Just type in the title, and Reelgood will display the platforms where it is available.
Personalized Recommendations:
Reelgood uses algorithms and your viewing history to offer personalized suggestions, helping you discover new content tailored to your interests.
Browse and Filter:
The platform enables users to browse through various categories, including genres, IMDb scores, release dates, and more. You can also filter by content type, availability on specific streaming services, and other criteria.
Watchlist and Tracking:
Reelgood lets you create a watchlist, where you can add movies and TV shows you want to watch in the future. It also helps you keep track of the content you're currently watching, including your progress in TV series.
Streaming Roulette:
Can't decide what to watch? The Streaming Roulette feature selects a random movie or TV show for you based on your preferences and available services.
Availability Notifications:
Reelgood can notify you when a movie or TV show on your watchlist becomes available on your streaming services.
Conclusion: Why is Reelgood so good ?
Reelgood is the ultimate streaming companion for movie and TV show enthusiasts. By consolidating content from various platforms, it saves time, reduces decision fatigue, and helps you discover new content effortlessly. So, say goodbye to endless scrolling and say hello to a world of entertainment with Reelgood.
Netflix
The American streaming service Netflix is ​​in the lead by a wide margin in the TOP-10 of video services. The Netflix platform has over 200 million subscribers worldwide.
Since 2013, Netflix has been producing its own films, series, and television programs. The service was glorified by popular and original TV series such as House of Cards, Orange Is the New Black, Black Mirror, The Witcher and many others, which received various film awards.
Netflix is ​​a popular media streaming service.
Advantages and distinctive features of the platform:
films and serials of our own production;
creation and release of content that cannot be obtained anywhere else legally;
the company makes multiple remakes, which will be of interest to fans of cult films;
the ability to switch to a child account;
the opinion of their fans is taken into account;
the service is regularly improved and improved;
high-quality recommendation system;
unlimited access to all films and TV series;
lack of advertising;
timely replenishment of the library;
new seasons of the series are loaded in full.
Among the shortcomings, the high cost of the subscription is noted.
Curiosity stream
One of the main American information and entertainment companies, offering subscribers a variety of video programs, documentaries, and short video content. The platform was launched in 2015 and as of today, the company has over 15 million subscribers worldwide. Users can use the service through direct and batch subscriptions.
The hallmark of Curiosity Stream is that the company produces original documentaries and series. This service features streaming documentaries.
The large coverage of the programs is also an advantage.
Programs and documentaries cover science, history, biographies of many famous personalities, information about various technologies, robotics and natural phenomena. Content for children is also offered with the option to filter out inappropriate content.
Curiosity Stream regularly adds films and new releases to the catalog. The relevant Chronicle on the platform shows recently added films.
HBO GO
With many original creations that are famous for having being broadcasted on other streaming services and on TV, HBO now took back its catalogue of famous creations to its own service.
Not only containing the HBO serials, they also offer various series and movies from other content creation services.
HBO GO
Disney Plus
The famous Disney brand has also decided to take back its catalogue of creations to create its own streaming service, that includes famous brands such as Disney, Pixar, Marvel, Star Wars, and National Geographic.
By subscribing to their streaming service, not only will you get access to the whole catalogs of serials and movies from these brands, but also from their partners, Disney being huge in the video creation business.
Disney Plus
Apple TV+
The Apple TV+ service offers access to various Apple original creations, and let you stream them on various devices, such as TV, iPhone, iMac, and other digital devices.
The main interest of the service is to get it for free for a year upon buying an Apple device, otherwise the service costs $9.99 per month.
TV – Apple
Russian online cinemas
Of course, Russian online cinemas are cheaper in terms of the cost of a subscription and all films are in Russian. Among Russian platforms, the leader is the Amediateka service with a 7-day trial subscription period. The platform offers HBO series premieres concurrently with the US.
Amediateka is an online TV series in Russian voice acting
The next well-known service in Russia is More.tv with a free trial subscription for 3 days. The platform offers serials from not the most popular producers and little-known directors.
The Premier service, without a free trial subscription option, offers Russian TV series filmed specifically for broadcasting on the Internet.
Online service more.tv
The Kinopoisk HD service offers a free subscription for 30 days and offers a lot of movie classics in its catalog. However, for new items you will often have to pay extra.
KinoPoisk. All films of the planet.
The Ivi platform offers a 14-day subscription for 1 ruble and has about 100 thousand films and TV series in its catalog.
Online cinema ivi - films, series and cartoons
Finally
Of course, there are a large number of platforms for watching films of any genre, style and release year. It is important to pay attention when choosing a user-friendly interface, movie library, connection cost and traffic consumption.
In case the service or its catalog isn't available in your country, consider using  a VPN   to access online streaming services in another country – and eventually also pay a cheaper subscription!
---
---