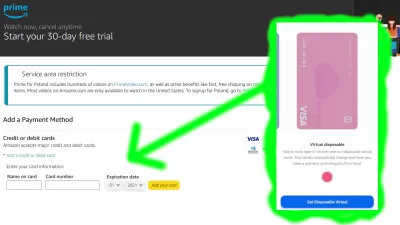 ---
---
In our last article we looked at what are the best legal streaming services online. Some of them are even offering a free trial, upon registration of a credit card.
In this article I'll show you how to use a virtual disposable credit card as your personal free video streaming trial key. There's no limit to the number of accounts you can create using free virtual credit cards, and avoid using a fake one to access the video streaming services.
Why should you avoid using fake credit cards in the first place?
We all know that free trials exist in order to get you hooked on a service or product. The moment an alarm bell goes off when the company tries to charge your credit card for a monthly fee, cancel and delete your account.
This is where a virtual disposable credit card saves you from unexpected charges by giving you unlimited free trials, as long as you can create free accounts and try out their products.
However, an easy solution might be to look for fake credit cards numbers on Internet. This solution is most likely illegal, and might get you into troubles.
Hopefully, there is a free alternative to this solution: use a free virtual disposable credit card for the service free trial credit card check, a real but virtual card at your name, and delete it right after so it will be impossible to debit money from account, thus letting the service cancel itself at the end of the free trial period.
When can you use a virtual disposable credit card?
A virtual disposable credit card can be used whenever a free trial is required to test a product or service, but you do not want to give your real information.
What services require a free trial?
Any company that provides a subscription for an app, software, website or desktop program will provide you with a free period in which you can try the service for free, usually in exchange for your credit card number, as they are expecting you to forget about your subscription and keep using the product.
If you do like their services, feel free to change your payment details and enter another free virtual disposable credit card number for the next settlement, or enter another card for a longer lasting relationship with that provider.
What are the best virtual disposable credit cards?
There are many virtual credit card numbers online services that allow you to create a virtual credit card number at your name that you can use for these free trials.
Many of them have an option that allows the card to be used with only one service, so when you use it for another brand it's automatically deleted from their service.
You might want to consider the amazing service from Revolut, a free multi-currency account for which you can get a multi-currency payment card (in exchange of a $5 postage fee), and infinite free virtual disposable credit cards linked to that credit card.
You can then create a virtual disposable credit card whenever you need one, and delete it as soon as you do not need it anymore, making it impossible for anyone to use that card.
Revolut is not only a virtual credit card, but also an app that allows you to pay using your phone without the need of having the physical debit card with you.
You can link all your bank accounts to Revolut and move money between them in real time, send money abroad at near-perfect exchange rates with zero fees, and exchange money at the lower rates between your accounts.
Creating a virtual disposable credit card for free trials
1. Create a virtual disposable credit card on Revolut app
After having created a free account with Revolut and ordered your debit card, log on their mobile app or website, and go to the cards section.
From there, select the add card button and select the virtual debit card option.
You will then be able to choose between a virtual card, that can be used for several payments, or a virtual disposable credit card, that can only be used once, and will be deleted right after a first payment - or can be deleted on request.
2. Find your virtual credit card
Then, once the website will request your credit card to access their free trial, go to the Revolut app, open the cards section, and select your virtual disposable credit card.
3. Display your virtual credit card details
Activate the PIN & security option, that will let the app display the virtual card details, so you can copy them to register for the free trial on the website in which you want to get a safe free trial.
4. Validate service safe free trial subscription
After having entered your credit card details in the website, they will simply check that the credit card is correct without withdrawing any money from your card.
This credit card verification process will appear on your Revolut transactions list, most likely in the USD wallet if you tried to subscribed to an US based service.
Convert EUR to USD and pay for USD online with Revolut
5. Delete your disposable credit card before trial ends
Once this verification has been done, you can safely delete your virtual disposable credit card. The online service will only try to withdraw money for payment at the end of the subscription, for the first payment, but it will not be possible as the virtual disposable credit card will have already been deleted.
Therefore, at the end of your free trial, you won't be charged any money, and the service will be cancelled automatically, as it is the case with most services.
Which services can you try for free with a safe virtual disposable credit card?
There are plenty of services that you can safely try for free without any fear for future unexpected payments by registering with a virtual disposable credit card, that you delete before the free trial ends.
Free trials with a safe virtual disposable credit card
Not all streaming services are offering a free trial, and their offer might change at anytime. Therefore, we recommend you to check the list of the best streaming services to find out which ones you can try for free with a safe trial when you will be ready for it.
What if you liked the service?
Of course, if you liked the free trial and want to keep using the products that you just safely tried for free, it might be a good idea to provide them with another credit card number, so you can keep using their services.
They will most likely contact you anyway in that matter, telling you that your subscription is stopped and pending payment with a valid credit card.
Simply do it if you want to keep using their services - otherwise, do nothing and you will not be charged a dime thanks to this free trick!
---
---